Iris wins £5m Corporate Entrepreneur Challenge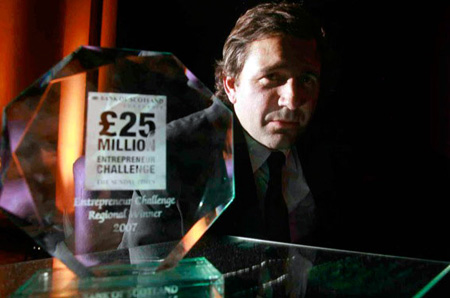 Iris Worldwide has become the second regional winner in the
Bank of Scotland Corporate £25m Entrepreneur Challenge in association with The Sunday Times
. The Entrepreneur Challenge is the biggest prize ever offered to businesses in Britain and is open to fast-growing UK businesses with a turnover of £2m or more and at least two years of sustained profits.
Some
other photos from the event are here
.
Here's what our co-CEO Ian Millner had to say in
The Times
:
The thing that makes us different at Iris is that we have a culture which is very positive and supportive. We have people with strong personalities who are very instinctive and intuitive, and there is a very strong sense of camaraderie, togetherness and team spirit.

Marketing is such a people business that if you donít know how to attract and motivate people, then you go out of business ... We just thought there was another way. We are able to be faster, smarter and cheaper because we are young and entrepreneurial and we donít have any fat cats telling us what we should and shouldnít be doing.

It's brilliant! We've never won anything before... we're exhilarated and honoured... It's our responsibility now to do the right thing with this investment. ... We are a group of people who only know one way to play, and that is to attack. What this loan allows us to do is to attack globally.
Watch out world ... here we come! ;-)

Related:

Iris celebrates a capital victory in £25m Entrepreneur ChallengeIris to expand after winning £5m loan fundingBank of Scotland: Regional Winner: IrisTimes Online competition announcement

Technorati Tags:

iris

,

entrepreneur

,

funding


Monday, October 22, 2007 &nbsp

&nbsp

&nbsp

&nbsp



&nbsp Comments:

Very Impressive
Wish my US based brokerage firm was this clever

Doug Kroloff
New Jersey
# posted by : 3:59 AM, October 24, 2007

We are incrediably proud of our Ian, our son, and of our extended family, IRIS.
Dont forget to save us a glass of porter!
Cheers everyone, Love Brian & Linda Millner x
# posted by Linda : 12:57 PM, November 08, 2007

Thanks Linda! We'll let him know. :-)
# posted by George Nimeh : 1:38 PM, November 08, 2007