Snow Safari 2007
In case you're wondering why the i-boy blog has been so quiet, I've been on a bit of a snow safari.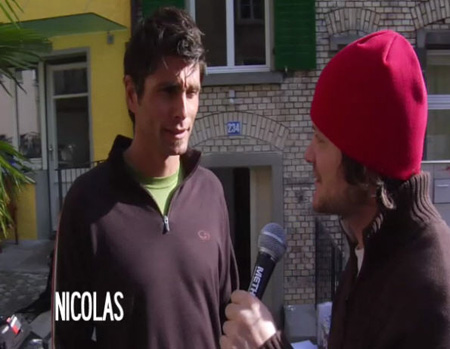 It started last week when I flew from London to Zurich to meet up with my friend Edi Senn. First stop was the
Funny Farm
(Hotel Mattenhof) in Interlaken Switzerland. I met up with Tinel who owns the hotel and set us up for the first few days. We were up on the Shilthorn and in Wengen for a couple days, and the conditions were far from ideal. Up until a few days ago, the winter season in the Alps had been pretty weak.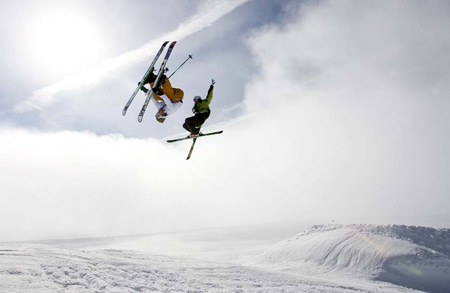 On Wednesday, we made tracks for Zurich to meet up with everyone for the kick-off of the
Red Bull Hike&Ride
. It was my 4th year taking care of the online portion of the event, and it was another very good event.
Jean-Yves Michellod and Loris Falquet won the competition. They're the fist Swiss team to win the event, and they filmed in Zinal and Grimentz "la ou la neige est toujours bonne."
My crew filmed daily videos and posted stories and photos every day of the event from
Verbier
,
Grimentz and Zinal
,
Les Diablerets
,
Les Portes du Soleil
, and from the
Kaufleuten
club in Zurich. They're all online on the
official site of the 2007 Red Bull Hike&Ride
. Big shout out to
Jason Horton and Taylor Clifton from Method.tv
for all the work in front of and behind the video blogging camera as well as
Edi Senn and Thomas Korosa from Greyscale.info
and
Maurizio Poletto from Collettiva
.
Nathan Gallager
took some sick photos of the UK team including the one below. For the second year running, the Brit's video was awesome. You can find them all on the
Hike&Ride site
.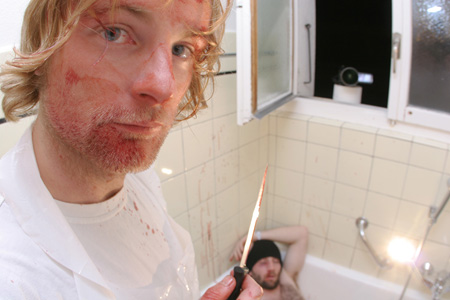 Grimetz and Zinal are real local resorts, and if you want to get away from it all, I highly recommend it. I met up with
Ian Spare from SnowSlider.com
(with whom I had traded emails a few times about the location), and his blog is an excellent doorway into the
Val d'Anniviers
.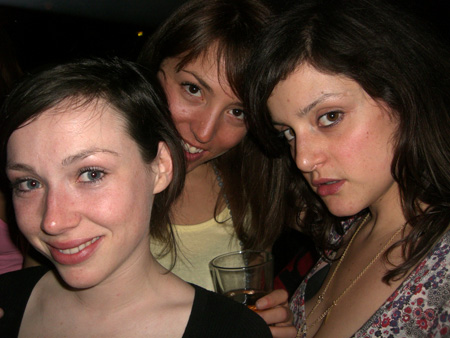 After working off a massive hangover from the premiere party on Sunday and a long wrap-up session for the event
at EQAL studios
in Zurich, I made my way to Gargellen.
I'm blogging from the hotel bar at the
Madrisa Hotel
having had 2 very nice powder days here in the Montafon valley. I love
Gargellen
. The snow is always good (it dumped 50cm here in the last 2 days), and even when the place is full, there never seems to be anyone around. Yesterday, I twisted up on my Gargellen trail map in celebration of a 35-50cm bluebird day. Endless pow. All day, there were less than 10 people riding "Nidla" where the goods are hidden in plain view.
Later tonight after a nice "sportmassage" from the hotel's lovely wellness center, I'm leaving for the Hotel Hospitz in St Christoph where my friend Helmut scored us a killer deal on a room at the best hotel in town. It has been dumping in the Alberg valley as well, and given their higher altitude,l there will be plenty of pow to be found.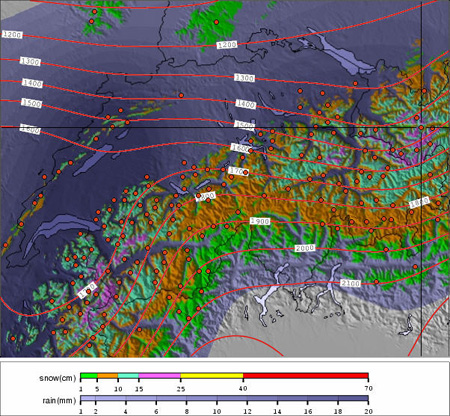 Thanks to

Snow-Forecast.com

, I've been keeping a keen eye on the weather. As you can see, we're in for another nice storm over the next few days. It is one of the few sites I'm happy to access premium services. It is cleap and very practical.

If the weather holds, we're in for a epic few days. On powder days, the last thing you want to do is stop to take pictures, but if I take any I'll post them here.

Later,

~G~

Technorati Tags:

personal

,

hikeandride

,

skisafari


Wednesday, February 28, 2007 &nbsp

&nbsp

&nbsp

&nbsp

&nbsp 0&nbsp comments




Iconic music videos

Grant asked the office the following question: I need to pick your brains we're doing something for (client name) and their new (product). I need you to have a think about your choice of the most iconic music video of all time ...

Well, I really love Michel Gondry and Spike Jonze videos. Here are a few of theirs and a few others.

Fatboy Slim: "Weapon of Choice"

(2000)

Directed by Spike Jonze

Beastie Boys: "Sabotage"

(1994)

Directed by Spike Jonze

The White Stripes : "The Hardest Button to Button"

(2003)

Director: Michel Gondry

Björk: "Human Behaviour"

(1993)

Director: Michel Gondry

The White Stipes: "Fell in Love with a Girl"

(2002)

Director: Michel Gondry

Grace Jones: "Libertango"

(1978)

Directed by Jean-Paul Goude

Ah-Ha: "Take on Me"

(1985)

Inspired by Michael Patterson

Herbie Hancock: "Rockit"

(1983)

Directed by Godley/Créme

Jack Johnson: "Sitting, Waiting, Wishing"

(2005)

Director: The Malloys

Tool: "Sober"

(1993)

Directed by Fred Stuhr

Technorati Tags:

music


Thursday, February 15, 2007 &nbsp

&nbsp

&nbsp

&nbsp

&nbsp 3&nbsp comments




Ze on Googe

Google tries a Valentine's Day logo and kinda forgets how to spell in the process. Or, at least they Googe'd everyone. Ze has all the messy details ...

Technorati Tags:

google


Thursday, February 15, 2007 &nbsp

&nbsp

&nbsp

&nbsp

&nbsp 0&nbsp comments
Big love
Happy Valentine's Day.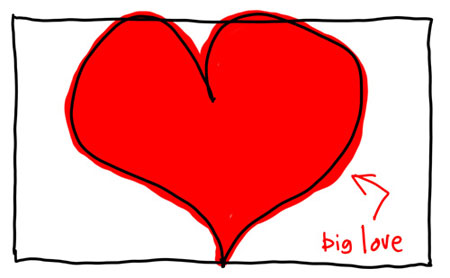 Click on the image for a desktop-suitable version. Courtesy of

Hugh

and

Stormoek

.

Technorati Tags:

bemine


Wednesday, February 14, 2007 &nbsp

&nbsp

&nbsp

&nbsp

&nbsp 0&nbsp comments




SportCommand



God, I love good geek gear. Behold my latest purchase for the 2007 Red Bull Hike&Ride: Instead of buying an overpriced jacket with an integrated wireless iPod controller, I've purchased Belkin's uber-geeky and tech-chic cool SportCommand for iPod.




The thing I really like about it is that SportCommand is independent of the jacket and therefore I'm not tied to a specific item of clothing. All seasons. All situations. Yummy.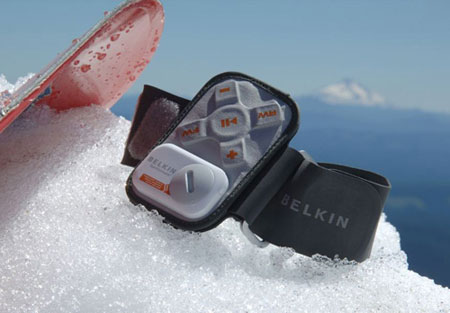 Some good reviews are on Consumer Electronics Net and Engadget.


Technorati Tags: gadget, wireless, ipod, hikeandride
Wednesday, February 14, 2007 &nbsp

&nbsp

&nbsp

&nbsp

&nbsp 0&nbsp comments
Spam-a-viral
Great viral game supporting the very funny musical and very strange food substance thingy.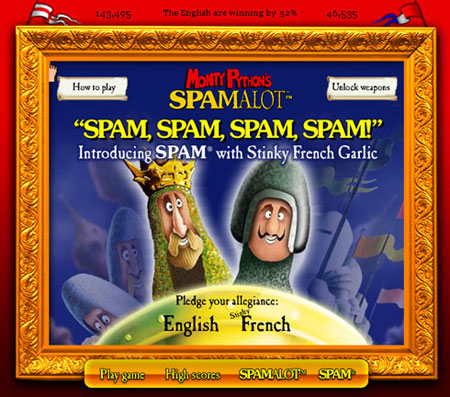 Technorati Tags:

viral


Wednesday, February 14, 2007 &nbsp

&nbsp

&nbsp

&nbsp

&nbsp 0&nbsp comments




Powder prep



Well, it's that time of year again: February means that the Red Bull Hike&Ride is on, and so I'm spending some of my extra time checking out a bunch of ski porn to catch up on what's hot ... and to humble myself a bit. ;)

So far, I've caught a bunch of older Warren Miller's flicks like Higher Ground, Storm, Cold Fusion, and so on. Warren's older flicks are classics and always a good place to start drooling. This year's "Off the Grid" is pretty good, but it isn't really a WM film. Looks like they've licensed the name and used a few voice overs from the godfather of ski porn. It has lost something, and whilst the action is great I think what it has lost is a certain degree of authenticity.

I've also seen parts of Matchstick's Push which really impressed me. Damn, MSP always make such good films ... The 2007 Powder Magazine Reader Poll Video Award winners were announced recently, and there are some nice clips on their site.

The "best male" category has some serious talent. Having seen Shane McConkey in action with Chris Davenport in 2005 when they won the Hike&Ride with DEATH (Dick Et Alphonse Trouvé Hiver), I'd really like to work with Mark Abma at some point. Watching Shane and Mark, they seem like twin sons from different mothers. The boy is capital S, Sick.

The 2007 Red Bulll Hike&Ride is just 10 days away ...

Labels: hikeandride


Sunday, February 11, 2007 &nbsp

&nbsp

&nbsp

&nbsp

&nbsp 0&nbsp comments
Yahoo! Pipes
Crap name for a brilliant new service. Tim O'Reilly, the father of Web 2.0,
writes
:
Before I get into the details of what it is and how it works, I want to give a little background on why I'm so excited. This is something I've been waiting nearly ten years for.

Yahoo!'s new Pipes service is a milestone in the history of the internet. It's a service that generalizes the idea of the mashup, providing a drag and drop editor that allows you to connect internet data sources, process them, and redirect the output. Yahoo! describes it as "an interactive feed aggregator and manipulator" that allows you to "create feeds that are more powerful, useful and relevant." While it's still a bit rough around the edges, it has enormous promise in turning the web into a programmable environment for everyone.

http://radar.oreilly.com/archives/2007/02/pipes_and_filte.html
http://www.techcrunch.com/2007/02/07/yahoo-launches-pipes/http://www.techmeme.com/070207/p105#a070207p105http://pipes.yahoo.com/

Technorati Tags:

2.0

,

yahoo


Thursday, February 08, 2007 &nbsp

&nbsp

&nbsp

&nbsp

&nbsp 0&nbsp comments
File under "Obvious"
So, people who watch things on YouTube watch less TV.
Wow! Gee, that's incredible. Not.
I wrote about the importance of asking the right questions in a post called
BBC vs CBS
.
Of course people who watch more online video will watch less TV. There are only 24 hours in a day. But, what TV do those folks choose to watch? Are they influenced by what they've seen on the internet? Are they more likely to check out a show that they've seen/previewed online? Do they tell other people about what they've seen.
Frequent YouTube Visitors Watch Less Television


A recent Harris Poll of 2,309 U.S. adults, of whom 363 are frequent YouTube viewers, conducted online by Harris Interactive between December 12 and 18, 2006, found that almost one in three of these frequent YouTube users say they are watching less TV as a result of the time they spend there. However, 73 percent of frequent YouTube users say they would visit the site less if it started
including short video ads before every clip. 42 percent of online U.S. adults say they have watched a video at YouTube, and 14 percent say they visit the site frequently.

Of all frequent YouTube users:

66% claim they are sacrificing other activities when on YouTube

36% say their visits to the site are most likely to have been at the expense of visiting other websites

32% say their time spent watching TV is next most likely to have taken a hit

20% think that YouTube also pre-empts email and other online social networking

19% defer work/homework

15% aren't playing video games
12% are not watching DVD(s) and not spending time with friends and family in person

YouTube usage is greatest among the group already hardest to reach through television advertising: young males. 76% of 18 to 24 year old males say they have watched a video at YouTube, and 41% visit YouTube frequently.

Aongus Burke, Senior Research Manager of Harris Interactive's Media Entertainment Practice, says "...YouTube ...has really emerged as a major force in, and problem for, the traditional entertainment industry. Not only is YouTube using a lot of their own content to steal the eyeballs they want the most, the site has provided a launching pad to wholly new forms of user-generated video entertainment that are gaining popularity quickly."


In the last year, TV networks have successfully experimented with airing of TV episodes with commercials on their websites. Nearly as many online adults (41%) say they have watched a video at a TV network website as they have at YouTube (42%). It seems like TV networks can get away with advertising more easily. Nearly three-quarters of adults who frequently visit YouTube say they
would visit it a lot (31%) or a little (42%) less often if a short commercials before every clip were included.


Burke concludes that "...consumers as a rule are not averse to watching commercials online in order to catch an episode of a TV show they would otherwise miss. Yet those who are accustomed to finding and watching everything for free at YouTube may have developed a very different set of expectations for the site."

Visit HarrisInteractive for more information charts and graphs ...

Technorati Tags:

research

,

explodingTV

,

youtube


Thursday, February 08, 2007 &nbsp

&nbsp

&nbsp

&nbsp

&nbsp 0&nbsp comments




Follow-up: Snickers Super (Bowl) Flop

As I originally wrote

here

, the "Brokeback" Snickers ad ("Mechanics") is pathetic and homophobic. It is nothing new, and I'm sure it made many people uncomfortable ... and really upset anyone who is gay. There are plenty of other ways of creating effective ads than this. As Bob Garfield writes, "Viewers can go to Snickers.com to choose their favorite ending. The vote should have come at the beginning, and it should have been No."

TBWA/Chiat/Day NY created this piece of crap (

iFilm

,

YouTube

), and Snickers paid $2.5 million to air it in the Super Bowl. Now, they've pulled it. I'd say they're a few days late making that decision.

This is what happens when (seems to be mostly traditional) agencies don't think and/or try to outsmart people on the internet. They forget that they've opened the door to the most powerful feedback mechanism ever created. They forget that saying things in meetings like, "We'll let the people take control" has consequences. They fail to think things through and are satisfied to play buzzword bingo until they get burned.

Like

Edelman's recent problems with WalMart

and the

Chevy Tahoe create-your-own-ad debacle

, at least I get another good case study for what not to do.

Snickers Scrubs Super Bowl Ad Site

by Gavin O'Malley,

LIKE ATHLETES, ADVERTISERS OFTEN RISK their necks for a winning campaign on Super Bowl Sunday. And while an ad's performance is harder to judge, one apparent loser this year was Masterfoods' Snickers brand--which has shuttered its campaign in response to criticism from gay rights groups.

Snickers' 30-second "Mechanics" spot, which depicted macho mechanics reacting badly to an unintentional kiss, quickly drew condemnation from rights groups like the Gay Lesbian Alliance Against Defamation and the Human Rights Campaign, which said the campaign promoted violence against gays.

Now, along with the TV spot, a microsite featuring alternate endings to the commercial and football players' reactions to them has also been taken down. In particular, "Wrench"--one alternate ending showing the mechanics beating each other with wrenches and cars' hoods after the kiss--drew criticism. "Campaigns walk on the edge to get the biggest bang," said Jupiter analyst Kevin Heisler. "That's part of the high-risk challenge advertisers face."

Some advertisers, noted Gartner Research Director Mike McGuire, might be under the false impression that anything goes online. "It's not just about connecting with your target audience," explained McGuire. "For good or ill, the Internet dramatically increases awareness and reach. That's difficult to control, and can be very dangerous."

According to a Masterfoods spokeswoman, humor was all the ads were trying to achieve. "We know that humor is highly subjective and understand that some people may have found the ad offensive. Clearly that was not our intent," the spokeswoman said in a statement. "Consequently, we do not plan to continue to air the ad on television or on our Snickers website."

Omnicom Group's TBWAChiatDay in New York, which designed the ad, could not be reached by press time.

Technorati Tags:

advertising

,

superbowl

,

snickers


Wednesday, February 07, 2007 &nbsp

&nbsp

&nbsp

&nbsp

&nbsp 2&nbsp comments
Now that's what I call buzz
Absolutely massive. Steve Jobs publishes a stunning post - "
Thoughts on Music
" - which calls for the end of DRM ... and the blogosphere erupts within hours of it being posted. It must make those trying to buy buzz at any cost (like the Windows Vista guys and the folks over at the NAA, see
previous post
) shake their heads ...
Today's most popular iPod holds 1000 songs, and research tells us that the average iPod is nearly full. This means that only 22 out of 1000 songs, or under 3% of the music on the average iPod, is purchased from the iTunes store and protected with a DRM. The remaining 97% of the music is unprotected and playable on any player that can play the open formats. Its hard to believe that just 3% of the music on the average iPod is enough to lock users into buying only iPods in the future. And since 97% of the music on the average iPod was not purchased from the iTunes store, iPod users are clearly not locked into the iTunes store to acquire their music.

... The third alternative is to abolish DRMs entirely. Imagine a world where every online store sells DRM-free music encoded in open licensable formats. In such a world, any player can play music purchased from any store, and any store can sell music which is playable on all players. This is clearly the best alternative for consumers, and Apple would embrace it in a heartbeat. If the big four music companies would license Apple their music without the requirement that it be protected with a DRM, we would switch to selling only DRM-free music on our iTunes store. Every iPod ever made will play this DRM-free music.

Why would the big four music companies agree to let Apple and others distribute their music without using DRM systems to protect it? The simplest answer is because DRMs haven't worked, and may never work, to halt music piracy. Though the big four music companies require that all their music sold online be protected with DRMs, these same music companies continue to sell billions of CDs a year which contain completely unprotected music. That's right! No DRM system was ever developed for the CD, so all the music distributed on CDs can be easily uploaded to the Internet, then (illegally) downloaded and played on any computer or player.

Steve Jobs /

Apple

:

Thoughts on Music

— With the stunning global success of Apple's iPod music player and iTunes online music store, some have called for Apple to "open" the digital rights management (DRM) system that Apple uses to protect its music against theft, so that music purchased from iTunes can be played ...

Discussion:

Thomas Hawk's Digital …

,

Don Dodge on The Next …

,

IP Democracy

,

Good Morning Silicon Valley

,

Open Source

,

Between the Lines

,

The Unofficial Apple Weblog

,

Tech Beat

,

Deep Jive Interests

,

New Web Order

,

Vindu's View from the Valley

,

InformationWeek Weblog

,

Jeffrey McManus

,

Guardian Unlimited

,

confused of calcutta

,

PaulStamatiou.com

,

The Next Net

,

InfoWorld Tech Watch

,

Gizmodo

,

Ars Technica

,

MacUser

,

Apple Gazette

,

The Technology Liberation …

,

Technovia

,

The Workplace Blog

,

The Tech Report

,

Paul Colligan's …

,

The 463

,

The Digital Edge Blog

,

TechBlog

,

The Future of Music …

,

Macsimum News

,

Jeremy Toeman's LIVEdigitally

,

The Last Podcast

,

Webomatica

,

Rex Hammock's weblog

,

Forward Thinking

,

Seeking Alpha

,

Business Filter

,

WeBreakStuff

,

Change Is Good

,

The Viral Garden

,

The Gong Show

,

BuzzMachine

,

Blackfriars' Marketing

,

Fast Company Now

,

Blogging Stocks

,

Buzzworthy

,

DeWitt Clinton

,

SearchViews

,

Paul Kedrosky's …

,

Listening Post

,

Geek News Central

,

PSFK Trend: PSFK

,

rc3.org

,

Life On the Wicked Stage

,

A VC

,

Slashdot

,

robhyndman.com

,

Joseph Scott's Blog

,

Podcasting News

,

UNEASYsilence

,

Paul Thurrott's Internet Nexus

and

Preoccupations

Related stories:




Martin Beckford /

Telegraph

:

Apple warns iPod users against Vista

— IPods could be damaged by Microsoft's new computer operating system, the company behind the popular digital music players has warned. — Apple, the long-standing rival of Bill Gates's Microsoft, is urging users not to upgrade their PCs …

Richard MacManus /

Read/WriteWeb

:

Steve Jobs Asks Record Labels To Abolish DRM

— Apple CEO Steve Jobs has posted his Thoughts on Music in the 'Hot News' section of the Apple website. He starts off by explaining the background to Apple's DRM on iTunes: … Fair enough, Apple had to play by the rules of 'the big 4' record labels.

Ryan Block /

Engadget

:

A letter from Steve Jobs on DRM: let's get rid of it

— iTunes, as we well know, is the world's largest online music distribution system; the iPod, of course, is the best selling line of portable audio players; and the pair are at the center of a very heated conversation …

Nick /

Rough Type

Jobs calls for end to DRM

A while back I argued that the big record companies would be much better served by allowing the sale of downloadable songs without copy protection (ie, digital rights management, or DRM). Because DRM has little or no effect on piracy, the only one benefiting …

Tom Krazit /

CNET News.com

:

Staci D. Kramer /

PaidContent

:

This Just In: Steve Jobs To Music DRM: Drop Dead

Technorati Tags:

blogosphere

,

music

,

drm

,

apple

,

steve.jobs


Wednesday, February 07, 2007 &nbsp

&nbsp

&nbsp

&nbsp

&nbsp 0&nbsp comments
$75 million flushed down the drain
The Newspaper Association of America announced a $75 million marketing campaign to declare its relevance in the internet age as advertising revenues were flat, buffeted by major mergers and a wounded domestic auto industry. Here's more from the
AP wire story
:
It's the second year in a row that the Newspaper Association of America has advertised directly to its advertisers, trying to change the perception that the industry is on the decline, executives said.

"I am sick and tired of all the doom and gloom reports out there about the death of this industry," said Earl Cox, chief strategic officer of The Martin Agency, the marketing group in charge of the campaign. The perception is "inaccurate and it's unfair and it's unacceptable."
Well Earl,
I'm
sick and tired of the newspaper industry
failing to innovate
and admit that it is not adapting fast enough to the changing media landscape. Wouldn't it have been better to spend the $75 million actually doing something?
Newspapers are yesterday's news
. In the UK, online will
overtake national newspaper revenue in 2007
. And it isn't happening because the IAB decided to spend $75 million on a PR campaign. It is happening because of innovation, consumer adoption, proven metrics and people determined to beat the hell out of dinosaurs trying to buy advertisers' opinion rather than earn their respect. From the same AP story:
Ad revenue at its member papers in the third quarter of last year declined 1.5 percent from a year earlier to $11.79 billion, according to the NAA. Traditional print ads fell 2.6 percent to about $11.2 billion while online ads rose 23 percent to $638 million. Total ad revenues were slightly up for the first two quarters of the year.

I think there is a vital role for newspapers to play. They are natural authorities and have coverage and experience that only the networks can come close to matching. There is a cooperative role for newspapers to play, but it involves innovation and the tearing down of borders previously thought to be sacrosanct.
"This is about audience and audience is a multimedia term," said John Kimball, the association's chief marketing officer. "Newspapers have multiple channels into the marketplace that we didn't used to have and that's what we're talking about. That audience is not shrinking. That audience is growing."

I agree with this statement, but I find little evidence showing what the newspaper industry is doing to make this scenario a reality. Other than trying to buy opinion, what is the industry doing? Their online/digital numbers may be up, but they are not leading the information revolution. Most of the time,

I think the industry is fighting it

.

What I really wonder is what would happen if newspapers from the Southern Hemisphere spend this kind of cash ... Would it flush down in the opposite direction?

Technorati Tags:

media

,

newspapers

,

dinosaurs


Tuesday, February 06, 2007 &nbsp

&nbsp

&nbsp

&nbsp

&nbsp 0&nbsp comments




Super Bowl 2007: the ads

2007 featured a very sloppy game but some pretty clean ads. From this side of the Atlantic, I must admit to being a bit less impressed overall than some of my US colleagues, but maybe that's because in Europe you don't see the ads during the game. Having to watch them the next day probably decreases the impact, as you aren't "in the moment". That said, I think it also provides a more objective viewpoint.

Touchdown

:

The best spot is not a new spot:

Coke's Happiness Factory (Wieden & Kennedy, Amsterdam)

is brilliant and was by far the best ad of the night. That said, it was not new. But if you were Coke and were spending $2.5 million per slot and had this ad from 2006 gathering dust, wouldn't you show it?


Monday, February 05, 2007 &nbsp

&nbsp

&nbsp

&nbsp

&nbsp 0&nbsp comments




Iris gets nominatedIris

is a modest bunch, but we managed to get nominated for several awards. We were already named one of

Marketing Magazine's Agencies of the Year 2006

, and I thought I'd share some news I got today from Katie who works in the newbiz/PR team:

Today, the

MCCA short list

is out and we're plastered all over it including agency of the year! We've also been short listed for a Fast Growth business award. We find out if we've won on the 29th March.

Awards are always nice for agencies, as they help validate all that we know is true about what we can do. Fingers crossed ...

Technorati Tags:

advertising

,

iris


Monday, February 05, 2007 &nbsp

&nbsp

&nbsp

&nbsp

&nbsp 0&nbsp comments




AdJab folds

Looks like the folks at AOL are cleaning house following the departure of Jason Calacanis. A very good blog,

AdJab

, is shutting down. It was part of the Weblogs Inc. network. Amongst other things, they published a semi-daily feature called "

AdAge in 60 seconds

" which I really liked.

Sad to see this one go ...

Technorati Tags:

blogosphere

,

advertising

,

weblogs.inc


Monday, February 05, 2007 &nbsp

&nbsp

&nbsp

&nbsp

&nbsp 0&nbsp comments