Radiohead's Rainbow: pay-as-you-please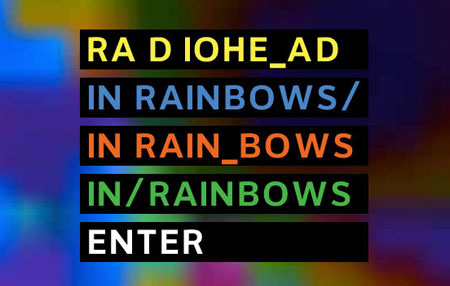 I love Radiohead. Always have. Always will. They're a brilliant and innovative band. Saw 'em in Philly when they played
The Bends
to a crowd of less than 500.
OK Computer
was the must-own album in Silicon Alley at the end of the 90s. They defined office space all over lower Manhattan. Sure, they've meandered and strayed off course now and again, but they've always had it. Whatever "it" is.
Whilst I have not yet heard a single track off of their soon-to-be-released album,
In Rainbows
, it is already one of my favourites.
Why?
Because they're giving it away online for free.
paidContent
writes
: In Rainbows will be available only via the bandís
inrainbows.com
website, where fans can place the title in a checkout basket but, on payment, are told "itís up to you".
Here's a great quote from a a pessimistic record label exec in
Time magazine
, "This feels like yet another death knell. If the best band in the world doesnít want a part of us, Iím not sure whatís left for this business."
Time also has this gem from a 2003 interview with frontman Thom Yorke, "I like the people at our record company, but the time is at hand when you have to ask why anyone needs one. And, yes, it probably would give us some perverse pleasure to say 'fuck you' to this decaying business model."
Great cover art review and images are on
Creative Review
. (Thanks for the link, Big Si.)
Discussion and links:
Silicon Alley Insider
,
Guardian Unlimited
,
Guardian Blog
,
WSJ
,
Mashable
,
Bubblegeneration
, and
PaidContent:UK
Technorati Tags:
music
,
business.models
,
radiohead