Burgers and broadband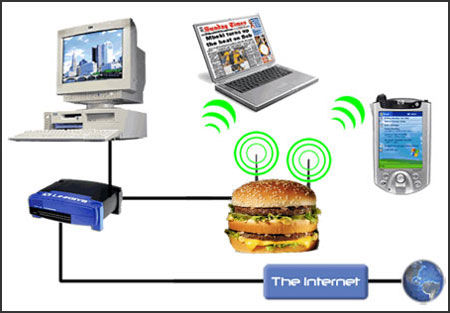 This is a fantastic idea, and it is about time.
McDonald's is rolling out a free high-speed wireless internet across nearly 1,200 restaurants from Monday. The move will make the fast-food giant the UK's biggest provider of free wireless internet access.
The fact that more places (cafes, restaurants, other meeting points) in Europe don't get the fact that offering free wireless access is a great way to pull in more customers is beyond me. Most places make you pay, and I think that's silly. My hunch is that WiFi companies came to these businesses with "turn-key" solutions to enable wireless into the stores at little/no cost to the owner. The idea being that they'd pass on the cost to the consumer and make money in the process.
Why not use the platform to do some POS marketing? Coupons. Loyalty programs. Surveys and other data gathering. Even brand marketing. You want free wireless? Great, all you have to do is watch one nice piece of marketing. I'm sure the vast majority of people would not mind. In fact, they might even find it smart.
The full story is
over on Brand Republic
.
Hey, you want fries with that?
Technorati Tags:
marketing
,
wireless
,
mcdonalds