5C's on using Twitter for business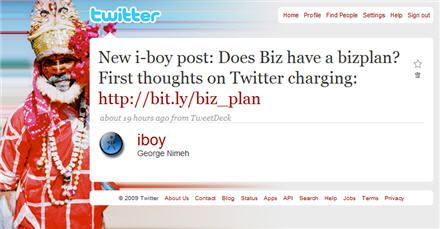 It is still early doors for
Twitter
, and people are still finding their way. That said, it is "mainstreaming" and Stephen Fry's recent
appearance
on Friday Night with Jonathan Ross could certainly be seen as a tipping point for UK adoption. As a follow-up to my last post (
Does Biz have a bizplan
) here are my 5C's on using Twitter for business:
1) Conversation
: Twitter isn't only about you and your brand. It is a social environment, and marketers should avoid the pitfalls normally associated with thinking that the world revolves around them. Agent Provocateur is joining up their conversations via Twitter, Facebook, a blog, a website and other "social media" activity to create authentic conversations. Not bad.
2) Celebrity
: It is much easier for celebs to "Tweet" than brands or products. Twitter is intrinsically about following people, so it should come as no surprise that famous folks who lead interesting lives and have interesting things to say (like
Stephen Fry
and
Al Gore
) have large groups of followers on Twitter. The takeaway for brands and products is to give a face and a personality to what you are doing.
3) Charity
: Twitter is emerging as a strong place to engage and enable social movements.
The Twestival
(a worldwide synchronous charitable event in support of clean water) will reportedly raise over $1M almost exclusively due to efforts of people on Twitter.

4) Customer relations
: From basic questions to crisis management, Twitter provides an accessible platform for people to speak to businesses. Ideally, real people with real personalities should do this, eliminating the generic "corporate-speak" that so often dominates these comms.

5) Command line services
: Savvy and innovative marketers can create and deliver "command line services" like the unofficial update service from
@uktrains
and the very handy
@myflightinfo
. There is a ton of untapped utility there which is bound to create brand love and big bucks.
And because nothing is that easy, here are two real risks:
First of all, we live in a world where utility, entertainment and crap all compete against each other, and Twitter increases both the signal and the noise. Marketers need to be careful to not to add to the noise, else few will follow.
Second, spam is inevitable, and Twitter is young. Just wait, it will happen.
What do you think?

Follow @iboy on Twitter here
.