Ricardo Montalban Es Mas Macho
Please press play and enjoy:
Chihuahua Choo Choo
.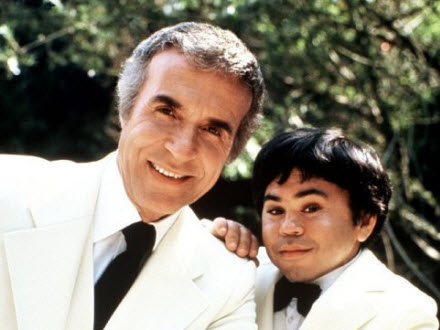 In the glory days of Chrysler, Montalban was a god:
In the 1980's, he made people's fantasies come true:
He always had moves, here with Cyd Charisse:
¿Quien Es Mas Macho?, was a hilarious tribute:
Bill Murray: Ooh es mas macho? Ricardo Montalban, orrr.... Desi Arnaz?

Guest: Ricardo Montalban?

Bill Murray: Ay-yi-yi. No. Ricardo Montalban es muy macho, si, pero Mistah Roarke canceles out-a Khan. Pero Desi Arnaz con "Babbaloo" est immortales! Desi Arnez es macho muy bien! Desi Arnaz est mas macho. Si, si, Desi Arnaz. Nexte questione!)
And he gave Kirk a hard time, twice.
Mas Macho. Indeed.