The Breakfast Club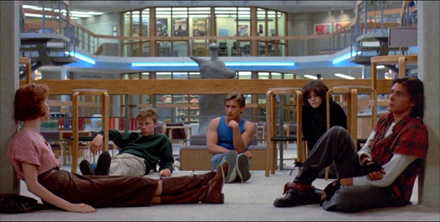 No, not
that
Breakfast Club.
So, I had fun this morning. And for those of you who have seen me before 9am, that's saying a lot. ;-)
Thanks to the fine folks at the
AAR
, I got to meet with
a bunch of smart digi people
and get some great advice from an experienced and savvy business consultant, all while having a lovely breakfast.
When I got my first coffee at
Aubaine
this morning, I noticed that the guy next to me was wearing a "
Caffeine Partnership
" company name tag and was ordering a cuppa black coffee. Classic.
Turns out it was Chris Cowpe, who amongst other things is the former CEO of DDB London, co-founder of The Caffeine Partnership, and co-author of
How to Win Friends and Influence Profits: The Art of Growing Your Clients
.

That's Chris with Juliet from the AAR.
Chris was the featured speaker this morning, and he came in to talk to us about the importance of focusing on growing new opportunities from existing client business, as opposed to concentrating on pitching new opportunities.
As an aside, I must admit that I found the topic a pretty bold choice for the AAR to make, given that they're in the business of facilitating new business pitches. Serious hat tip for that.
So, what is new business? Sure, pitching for clients is part of newbiz, but Chris made it clear that growing new opportunities from existing client relationships makes good business sense and should be treated with the same level of rigueur and zeal as a proper pitch. Might not be as flashy, but it makes better business sense over the long term.
Chris opened with a nice nod to the people in the room, "It is difficult to talk about the future to the future", and thankfully he was keen to make his talk a "no PowerPoint moment". Here's a summary of his talk:
Why is it more profitable to grow new from existing business?
Management required to run it often exists within the current team
Can add more junior people to handle the new deliverables in stead of having to add an entire new team

Avoids "start-up" costs associated with a new client relationship

It can be lower risk, due to increased understanding of the client relationship from the outset

Fosters retention

Creates stronger agency credentials as a result

On that last point, Chris asked the group to choose between telling a prospective client that over the last year A) your agency had presence in 60% of the world capitals, B) you have a 60% conversion rate on new business opportunities or C) 60% of your existing clients have given you new assignments. Given the widespread nods in the room, it was pretty clear that 'C' was the clear winner.
Chris went on to tell the group that digital agencies should focus on growing "new from existing" because it helps move from working on projects to building client relationships. I'm paraphrasing here, but essentially he said it helps digital agencies move up the ladder … People working at digital agencies are angry and/or frustrated because they're not sitting at the "top table".
I think that anyone who has worked in digital (agency or client side) has certainly experienced this. Chris chalked it up to the fact that most of the time, the larger
BDA
s control the budgets.
So basically, money talks, right? Not necessarily. Chris was quick to point out that whilst "they have the budget, you have the knowledge. You are at the frontline of the revolution."
Amen to that.
Focus, leadership and perspective are the three acaracteristics of successful new business organizations, according to Chris.
Focus
: Which are the best prospects? Be realistic about what you are good at and focus on that. Here at iris, we generally ask the question, "What's your Pokémon skill"?
Leadership
: The right environment will create success, and that must start at the top. This includes looking at how pay and bonuses are structured to foster organic new business development. I definitely agree with the idea that people should be incentivized and rewarded (and not just with cash) to see organic growth on par with new business. Think: celebrations, kudos, compensation and such.
Here's a quick test: If you're at an agency, ask yourself what happened the last time you won a decent size piece of business from a new client. Now ask yourself what happened when the same type of business came in from an existing client. If the agency response was not the same, ask yourself why and what should be done about it.
Perspective
: Building relationships does not mean just more money. Chris encouraged us to get out into the frontlines, as he put it.
Chris ended his talk with six tips for how to successfully integrate organic business development into agencies:
The matrix: His first tip explained the different challenges facing the business when pitching new from new or existing, both in terms of clients and services. It was a nice compact matrix providing strong insight, and I encourage you to contact him to discuss it.



Start now: Kick-off organic business growth as soon as possible. Don't wait and think you can put it forward later so as to concentrate on the things they know you for. If you do that, your clients may not ever take the time to notice.


Engagement: Are you only reading Russell Davies last column (or blog), what Scamp had to say, or the latest post on crackunit? If so, think again. Read about your clients. Study up on what concerns them. Get smart. Think about the Political, Environmental, Customer, Social, Technical, Economical and Legislative factors that are impacting their businesses.


Make it part of daily life: Don't dust off the client development plan every six months just to say you looked at it. Treat those tools like more than a theoretical objects. Make use of them.


Team building: Get people together from across the agency together with the client. Encourage "reciprocity" in terms of organic business development between your teams.


Client agency audits: Be certain about the state of your client relationships. Take the time to find out.
On that last point, I mentioned that iris has implemented a very successful client audit programme called iris All Ears. One of the things that has made it a success is the fact that it is incredibly transparent and done in conjunction with an independent third party. That makes the good things more fun to celebrate and the hard stuff easier to swallow.
Any other tips out there? Stories from the front? Do you think that each one of us is
a brain, and an athlete, and a basketcase, a princess, and a criminal
?
Technorati Tags:
aar
,
newbiz
,
strategy
,
agencies
,
events
,
london