Race with Lewis Hamilton in real time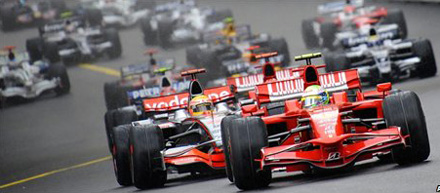 This is awesome.
GPS-enabled real-time racing: In other words, you race against the pros as it happens.
Here's the
lowdown from the BBC
:
"It's clear that the next trend in gaming is going to be bringing real objects into the virtual world; playing not against other gamers but people doing the real thing," said Andy Lurling, founder of iOpener Media.
The patented system his company is developing sucks in real-time GPS data from racing events and pumps it out to compatible games consoles and PCs.
The idea is that you could pit yourself against the top drivers in the world, as it happens, from the comfort of your living room.
"You can compete against the best of the best," he told BBC News.
At the core of iOpener's technology is an enhanced GPS system known as differential GPS (DGPS).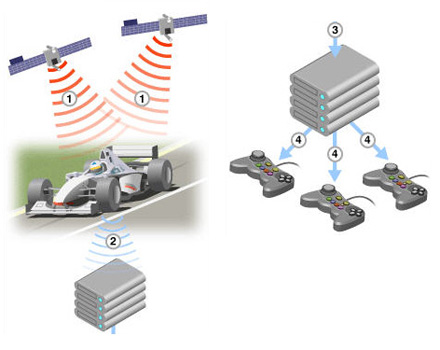 At the moment, iOpener is concentrating firmly on racing games, but believes that there is a huge market for the system in other sports.
"You can think of biking, rowing, skiing and snowboarding," said Mr Lurling.
"In the next three to five years, we believe that games will not be 'triple A' games unless they have our feature in," he said.
Mr Lurling was the 2006 Dutch regional winner of the European Satellite Navigation Competition (Galileo Masters) which aims to find novel uses for location data. The 2008 competition is now open to entries, until 31 July.
More info here:
Real racing in the virtual world: BBC
RealTime Racing: The game developer
iOpener Media: The Parent Company
Discussion:
The Next Web
,
Virtual Worlds blog