You are not comparing apples to apples
In addition to the original article in Business Week below, there's an interesting follow-up post or two out there including this one by TechCrunch's Michael Arrington:
Here's What's Going To Happen To Apple's Rivals
Business Week investigates what the iPhone's impact is going to be on rival high-end phone makers like RIM, Palm, Nokia, etc. I'll save you the read - the answer is summed up (in this) image.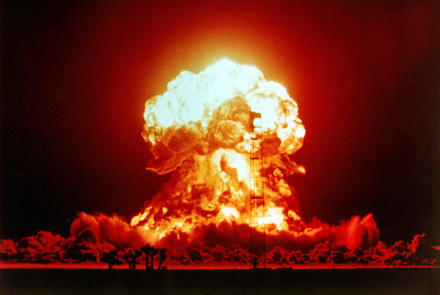 It's true, Apple only sold 6 million iPhones in its first year, out of a billion or so handsets sold worldwide. But remember that they are currently available in only a couple of countries. And in the U.S., they've grabbed a 25+% share of the smart phone market. And that was with a slow, no-GPS, expensive device (here's our side-by-side comparison of the iPhone v. the RIM Blackberry 8820 from a year ago).

Imagine the havoc they will wreak with the twice-as-fast, half-as-expensive, GPS-enabled, Exchange-supported 3G iPhone that they'll unleash on 22 countries this year.

In short, it must be really unpleasant to be in this business and not be Apple right now.

Here are some choice bits from the BusinessWeek article,
The iPhone's Impact on Rivals:
by Olga Kharif.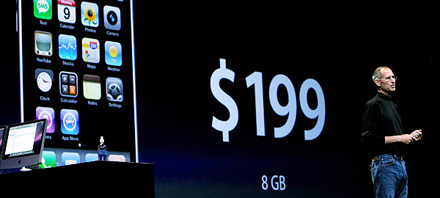 It didn't take Apple (AAPL) long to make its mark on the mobile-phone industry. In the first year after the introduction of the iPhone, Apple grabbed handset share from rivals including Research In Motion (RIMM), while AT&T (T), the only authorized U.S. provider of iPhone service, used the device to lure customers from Alltel and T-Mobile USA. Imagine the ripple effect of a cheaper, faster, more feature-packed version of the iPhone.

Not only has Apple whacked as much as $200 from the iPhone price and made it capable of working on a faster wireless network, but the company is also adding a wide range of software features that may make it more appealing to consumers and business users alike. The new iPhone is due in July.

To cope, wireless service providers are likely to increase their own mobile handset subsidies, boost marketing budgets, and reduce prices on some services, analysts and industry insiders say—all likely to mean slimmer margins. Rivalry from Apple adds to the pressure on an industry already grappling with increased government regulation and competition from new players, including Google (GOOG), that threaten to loosen service providers' control of the market.


How long will the pain last? Hard to tell. It can take years for a blockbuster phone to peak. Motorola's legendary Razr series of phones was introduced in 2004, but didn't reach a crescendo until the first quarter of 2007, when it accounted for 12% of all U.S. cell-phone sales, according to NPD.

Nor will it be easy to determine how well these competing smartphones and iPhone look-alikes will stack up, analysts say. "The thing is, it won't be the iPhone," says Neil Strother, an analyst with JupiterResearch. "You are not comparing apples to apples."
That's a damn good quote.


Tuesday, June 17, 2008 &nbsp

&nbsp

&nbsp

&nbsp



&nbsp Comments: