Skittles, the Twitter turducken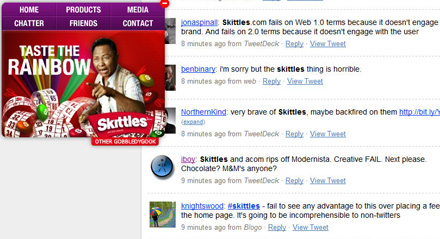 As some of you may have noticed, the
Skittles homepage
now is an overlay onto Twitter and several other social networking sites. Instead of creating a brand, they're putting their brand out there for others to define and play with.
Great, right? Join the conversation! Get involved! Let your brand be free! Get on the 2.0 bandwagon! Drink the social media Kook-Aid! Well, I must admit I think this one is a bit shit.
The fact that they're using Twitter means that anyone can say anything, and the comments and links show up on the screen alongside their brand. Unlike, say, Wikipedia, YouTube and Flickr which lets you moderate and control a bit better. That's an invitation for people to act like kids (which we all like to do when give the chance, right?) and write whatever comes to mind. Worse still, you can post links to other content which is completely out of their control.
Rubbish strategy. Fail.
Making matters worse, Agency.com's concept was absolutely stolen from
Modernista!'s work in 2008
. Check out this post I wrote in March, 2008 complimenting Modernista! on their work, "
Modernista! walks the talk
".
Blatant creative theft and unoriginality. Fail.
And let's remember that Agency.com was also behind one my all-time favourite embarrassing social media disaster moments: The Subway pitch during which they told the world, "
When we roll, we roll big
." Normally, I wouldn't bring it up. I'd just let it languish
in the archives from 2006
. But in this case, given the fact that this is
another horrible implementation of a social media strategy by an agency that should know better
, I feel compelled to point it out.
AKQA's David Bentley
wrote a nice guest piece here on i-boy about that particular viral debacle and mishap
. here's what he wrote at the time:
From the broader perspective I am somewhat disheartened that an agency of such profile and repute should make such a viral attempt. It reverts our entire industry back to 1997 where large companies were worried about giving significant business to 'crazy funky webshops'. In 2006 we are in a different environment where media budgets are shifting rapidly online and now accounting for $10bn globally. We need to be professional and manage this business and to instil confidence – this activity does nothing of the sort. Is it any wonder that some of our finest digital alumni are taking senior jobs with traditional agency brands even though many are derided for not 'getting it'? They may not 'get it' but they are respected and they sure understand client management and building long-term mature business relationships.

I think that's still true today.
It is worth asking the old question, "Is all news good news?" And as Luis Carranza points out, they've just tacked their brand on top of it. They haven't engaged in a conversation. All they've done is encourage juvenile behaviour. If that was the brief, bravo. Doubt it was, however. If it wasn't, FAIL.
I see two outcomes:
1. Skittles pulls the campaign off Twitter because it is too far out of their control, and Agency.com realizes that they've f*cked up yet again.
2. The buzz dies down, and nothing interesting remains.
Here's
Wikipedia inside Skittles inside Modernista!, posted on Flickr!
Call it a Twitter
turducken
.
@iboy is on Twitter
, btw.
UPDATE
1
: Many other posts worth reading on this:
Skittles: A Brands With Balls Or More Copy, Paste?
Sam Ismail
Is Skittles onto something?
Brian Morrissey
Originality then relevancy, in that order
Mark Hadfield
UPDATE 2:
See "Outcome 1" above ... The part about Skittles pulling the campaign off Twitter.
Skittles Swaps Homepage from Twitter Search to Facebook Page
As Charlene Li notes in the comments, it's possible that Skittles plans to rotate the various social media channels on the homepage. Regardless of whether this is true, I still believe it's important to point out how nasty (insults, racial slurs) things can turn out when you give control of the content on your site to users, some of which can be completely anonymous.