Is that all you got, Twitter?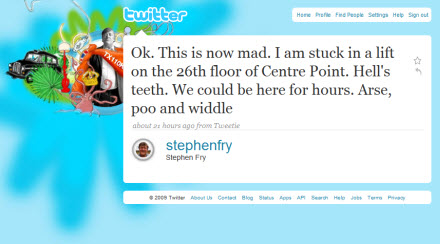 Most Brits I know who know anything about the Interwebs are talking about
Stephen Fry
. Why? Well, because he went on
Friday Night with Jonathan Ross
and mentioned
Twitter
. And then late last night, he got stuck in a lift (that's an elevator, y'all),
and it made the fcuking news
.
Fry tweets his way to safety after getting trapped in lift
Independent, UK
This is mad, I'm stuck in a lift: Stephen Fry Twitters live from ...
Daily Mail, UK
Stephen Fry tweets from stuck lift
Digital Spy, UK

Stuck Fry gets a lift from Twitter
The Sun, UK

Stephen Fry Was Trapped In an Elevator
Gizmodo Australia
Stephen Fry Is Stuck In A Lift In Centrepoint
Londonist, UK
Shafted. Poor Stephen Fry
IT PRO, UK
Is that it?
Really?
Is that all you got, Twitter?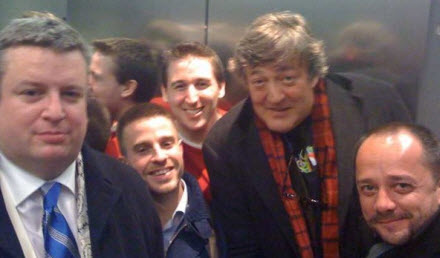 There are 122,863 people following Stephen Fry waiting to hear about being stuck in a lift, complaints about flight schedules, and taking walks on slippery roads. (3,000 people more since I started writing this post.) The press is fawning and bloggers are blogging ... about
a British society icon and all-around nice guy
who got stuck in an elevator.
Twitter isn't about giving everyone a voice. It isn't about you. I don't think it is really about social networking, either. Sure, it
is
about sharing, but I think it is more one-way than people make it out to be. It is about celebrity. It is about A-lists ... and their followers.
It isn't "What are
you
doing?" ... It is "What are
they
doing?"
I'm not surprised that Stephen Fry has over 120K followers. Heck, I bet it will be 250K in a month or so. He's sought after. He's popular. He makes the top table when people in the UK are asked who they'd most like to have at their ultimate dinner party.
But Stephen Fry follows 32,058 people. Do you really think he reads their "tweets"? If not, what does that mean? That Fry doesn't care? Actually, no, I'm sure he does on some level. I'm not sure what it means, yet. But I know that it isn't a conversation, and that's one of the things I like the most about the web.
So now, everyone will want in. I can hear it in the boardrooms and see it in the planners' powerpoints. There are plenty of musings about brands starting to tweet and companies wanting to inject inter-tweet advertising between people's messages. Oh yes, more of that, please. That's what we
really
need. If you're a brand or product marketer, and you want my advice on how to use Twitter for marketing and PR, this is all you need to know:
http://www.howtousetwitterformarketingandpr.com