Crussh Smoothie Lab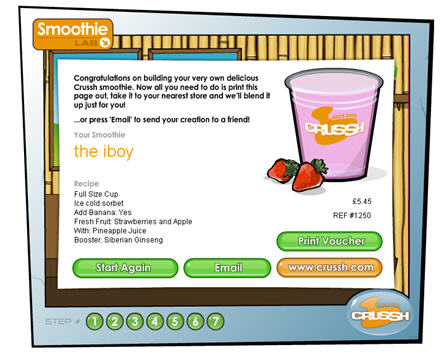 Nicola sent this link around today, and I think it is fantastic.
The Crussh Smootie Lab
is a case study in "helping people buy". I mean, ffs, they're helping people buy
smoothies
using digital to engage, entertain and push to retail.
Picture perfect retail activation via digital.
Even great ideas can be improved …
1) I'd have made it easier than using a drop-down to find the retail location. A Google mash-up using post codes would have been very easy.
2) It could use sound … Blending noises. Cute sounds of fruit dropping into the blender. Maybe shop sounds. Music. And so on.
3) Having signed up for their newsletter, I'm really hoping that they send me my personal recipe and the store address … So far, nada.
This brings to mind 2 other classic blending projects:
Will It Blend
, presented by Blendtec and the
Joesterizer 10 Speed Frog Blender 2000
. They're both hilarious.
The Frog is a classic, but I bet Crussh tastes better ...
Technorati Tags:
retail
,
engagement
,
crussh
,
bestof