Random wonderfulness from Converse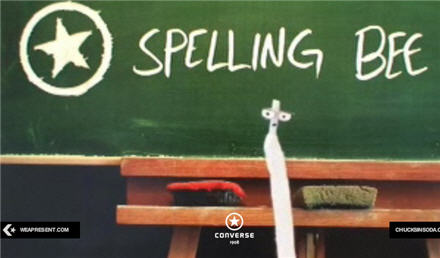 Converse has a strong history of doing cool, artsy-related web experimentation. Last time, it was The Converse Gallery, a project that allowed consumers to submit a 24 sec film (not a commercial) about what Converse means to them.
This time, it is a bit more random …
Random wonderfulness begins here:
http://www.thisistheindexpage.com/
Here's a condensed version of
the Contagious newsletter
where I found this.
Converse Microsite Extravaganza

Continuing a year of frantic activity to mark their hundredth anniversary, Converse has launched an elaborate web campaign featuring more than 20 microsites. The preferred footwear of creative departments everywhere has teamed up with agency model poster children Anomaly in New York to construct something akin to an online treasure hunt, in which participants are rewarded with increasingly odd content.

This is a smart campaign, perfectly pitched to assist Converse's community of wannabe slackers in the wasting of a lunch hour or two. It's also a great example of a rapidly developing trend in online brand-building epitomised by the Titanium-winning UNIQLOCK. The brief? Create a stir. The target audience? Anyone and everyone. The point? Minimal. Just make something fun, and weird, and get people to pass it around.

We have to say, we find this oh-fukkit approach seriously refreshing. It's a strange truth that the industry still appears to be fretting over online metrics, having conveniently forgotten that one of the cornerstones of traditional advertising involves flinging a print ad into the ether once every six months and hoping for the best. However, change is a-coming. Whilst there's still a place for aggressively focused one-off campaigns, the younger, hipper players are opting for more sustained exercises and eschewing the hard sell in favour of provoking chatter. This is bang on brand for both Converse and UNIQLO. We'd therefore like to offer a big thumbs up to Anomaly for having the balls to prize fascination over overt persuasion.


Technorati Tags:
converse
,
engagement
,
creativity