Batman's Box Office Bonanza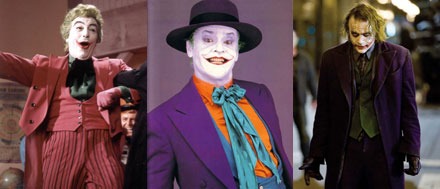 Buzz turned into a box office bonanza as Batman scored a record opening in the USA.
The film raked in $158.4 million dollars, crushing the previous North American box-office opening record of $151.1 million held by "Spider-Man 3", industry tracker Exhibitor Relations said.
The latest Batman flick, the Dark Knight, "rewrote the box-office record books last weekend as audiences flocked to see late actor Heath Ledger in his last completed film role, figures have shown," says
Agency France-Presse
.
Heath Ledger's stunning performance has grabbed the headlines, and it is impossible to separate the tragic circumstances of the actor 's death from the fascination with the film.
That said, it is important to remember how much buzz the film's release had been generating all along. The
leak of 5 minutes of the film
and the
sustained viral activity
have certainly played an important role in growing word of mouth and interest for the past several months.
Time Magazine writes:
The film benefited from a unique mix of factors beyond the usual superhero movie hype, including a buzzed-about performance by the late Heath Ledger as the Joker, perfectly pitched marketing, agile distribution and gas prices that have made a night at the movies an attractive alternative to a summer road trip. It also helps that The Dark Knight, as most critics and audiences attest, is a very good film.

Most blockbusters are built on first-weekend hype that quickly falls off as new films arrive in theaters, but audiences are spreading good word of mouth and, in some cases, returning to see the film on IMAX screens. Whether there'll be enough returns to put The Dark Knight in all-time box-office territory remains to be seen. But Hollywood appears to have its box-office superhero for 2008.

For those scoring it at home, here are some more numbers ...
$67.1 million on Friday, the biggest ever opening day, single day and Friday on record
$47.7 million on Saturday
$43.6 million on Sunday, now the biggest ever Sunday on record
Analyst Jeff Bock said "I think you have to credit this to a large extent to Heath Ledger," Bock told AFP. "Since he died there has been a tremendous amount of anticipation about Heath's performance."
Even the Heath Ledger Joker dolls are
flying off the shelves
.
Related posts on i-boy:
The first 5 minutes of The Dark Night
Clown Travel Agency
Other posts and discussion:
How Batman Broke the Record
'The Dark Knight' rewrites box-office record books
The Dark Knight Reigns: $155.3 Mil Weekend
The Batman Box-Office Legend Grows
The Dark Knight Reigns: $155.3 Mil Weekend
Holy $66 Million Debut, Batman!
Dark Knight's Record Midnight Madness