Grand Theft Auto IV is a bona fide blockbuster
In case you needed further proof of the dominance of the big game companies over Hollywood, look no further than Grand Theft Auto IV.
The
NYT reports that the
Take-Two
's
Rockstar Games
latest release Grand Theft Auto IV has racked up $500 million in first-week sales.
-> 3.6 million units in the first day
-> 6 million units in the first week
-> $500 million in sales in the first week
Absolutely massive. A true blockbuster.
Random commenter
Danny writes
, "Call of Duty 4 sold 1.5 million units in its first month, and has sold 7 million overall since November. Halo 3 sold 3.3 million copies in its first 12 days, and has sold about 9 million since then. So GTA is destroying all sales records."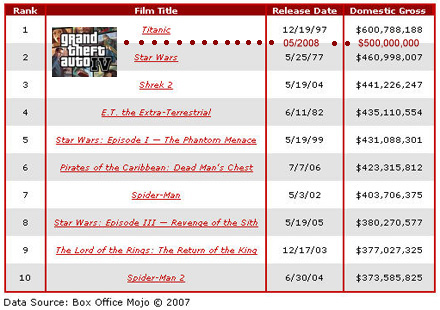 If GTA IV were a movie, it would be the 2nd highest grossing movie ever ... in its first week!
I'd expect the new Hollywood releases targeting a similar audience to do relatively poorly this week. When Halo 4 came out, it was a bad week for the theaters. And GTA IV has sold twice as many games in half the time. Despite a killer opening,
Ryan Spoon writes
, "To put this in perspective, last weekend's opening of Iron Man brought in a record-breaking $201mm globally… GTA IV did 2.5x that. Of course unit prices are drastically different - but these are massive numbers."
Look for box office figures for "Speed Racer" and the latest "Iron Man" numbers to be well off the mark.
So, is it Game Over for Hollywood? I doubt it. But I'd guess that piles of Grand Theft Auto scripts will be landing on Hollywood producers' desks over the coming months.
Game on!
More here:
Take-Two Interactive Announces Rockstar Games' Grand Theft Auto IV Breaks Entertainment Launch Records
(TakeTwo press release)
A $500 Million Week for Grand Theft Auto
(NY Times)
NY Times: GTA IV snatches $500 million in first week
(Joystiq)
GTA IV's First Week: 6 Million copies, $500 Million, (TTWO)
(Silicon Alley Insider)
Technorati Tags:
blogosphere
,
games
,
taketwo
,
rockstar
,
gtaIV
,
stats