Come get "Under the Influence"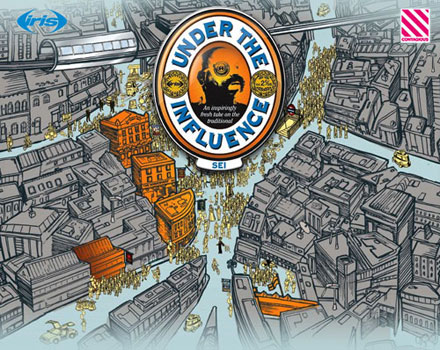 At
iris
, we like to do things a bit differently, and
Under The Influence
is our take on the traditional industry speaker event.
Held in 5 pubs around Borough Market (next to London Bridge), it is a chance for members of the industry to come down, have a pint and soak up some of the inspiration on offer. The theme of this years event is "Where Next?"- i.e. What's round the corner for us all.
I'm hosting 'The Dip Inn' (aka
The Market Porter
) which will focus on short-form content and "media snacking". We've got one helluva line-up for ya:
2pm: Philip Smith: Head of Digital Content,
Haymarket Brand Media
3pm: Matt Smith: Co-founder,
The Viral Factory
4pm: David McCandless:
theinternetnowinhandybookform.com
5pm: Andrew Baron: Founder,
Rocketboom
Speakers at the other pubs include
John Grant
,
Fallon
's Chairman Laurence Green,
Contagious Magazine
's Paul-Kemp Robertson, Poke's
Iain Tate
, and the legendary
George Parker
. Can you imagine George Parker speaking about advertising and marketing whilst having pints in a pub? He'll think he's died and gone to Heaven!
There's plenty more on offer in addition to what is sure to be an excellent party after. The event is free, and the full line-up is over on the
Under the Influence
web site.
So, come have a few pints and learn something new.
Hope to see you there.
Technorati Tags:
events
,
iris
,
under.the.influence
,
uti