Twitter fails Macworld test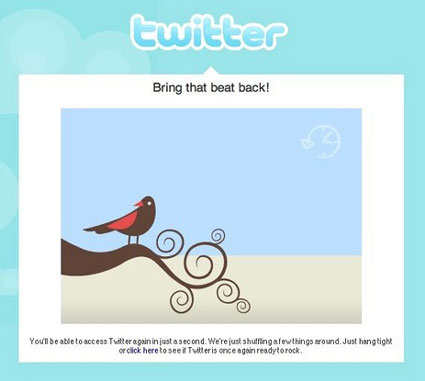 Wikipedia describes Twitter as "a free social networking and micro-blogging service that allows users to send "updates" (or "tweets"; text-based posts, up to 140 characters long) to the Twitter website, via short message service, instant messaging, or a third-party application such as Twitterrific."
I agree with that description but would add the following:
A company with no visible business model built on an incredibly weak technology platform.
As most of you know, I'm very bullish on the internet. To some, that's the understatement of the millennium. But my bullish-ness does not mean I love everything out there by default.
Second Life has failed to impress
me from the start. They don't have a viable business model, and their technology just plain sucks.
Twitter shares those two unenviable characteristics with Second Life, and whilst I am
breaking my own promise
not to blog about them, I feel today is an important day for Twitter: Today is the day Twitter failed the Macworld test.
At yet another critical moment where the start-up had an opportunity to impress, their service failed leaving their user base frustrated and wondering why they can't cope with the demand.
Along with Second Life, that storyline sounds a lot like
what happened to Friendster
, doesn't it?
Pete Cashmore
writes
, "Downtime has become par for the course for Twitter during big news events (especially those pertaining to the tech industry, which makes up a sizable portion of the Twitter userbase), with the company having nearly 6 days of downtime in 2007 according to a recent report from Pingdom."
Like many of my colleagues and geeks around the world, I was in the office today trying to follow the goings-on at the annual Apple love fest. As I am much less interested in the blow-by-blow from the real Steve Jobs, I was looking forward to Daniel Lyons' satire. But much to mo my despair
Fake Steve Jobs' live account
of the proceedings was nowhere to be found.
He planned to "live blog" the event, but for whatever reason he decided to use Twitter instead.
Big mistake.
Shortly after the start of the real Steve Job's keynote,
the lights went out at Twitter
.
As I mentioned in my
2008 co-predictions
, I think Twitter's investors will begin questioning Biz Stone about his company's viability. From the looks of things after tonight's fiasco, many Twitter fans are falling out of favour or at least raising some serious questions about why this keeps happening.
Here are a links to a few blogs discussing the story. Several of them use Twitter regularly, have given favorable reviews of the service and have generally supported Twitter in the past:
Now we know what Twitter's good for: not much
Vallywag
Hey, Steve — you broke the Internet
Mathew Ingram
Twitter Fails Macworld Keynote Test
TechCrunch
Steve Jobs Speaks. Twitter Goes Down.
Mashable
By the way, the fact that I don't rate Twitter as a business has not stopped me from enjoying a does of
Twittervision
now and again.
Technorati Tags:
twitter
,
second.life
,
friendster
,
macworld