Powder 2008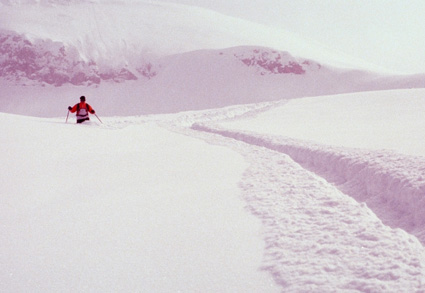 I'm back in London, but deep pow is top of mind.
In addition to making our own plans for this winter, several people have asked about places I'd recommend in Austria. So, I thought I'd write about them here.
St Anton am Alberg
Best of the best. Everything is fantastic. Along side
Whistler / Blackholm
and
Chamonix
, St Anton makes up my trio of big mountain favourite places to ski. St Anton has the best après-ski of all time, and the skiing is insane. Mecca. A must. Just go.
http://www.stantonamarlberg.com
http://www.bergfex.com/stanton-stchristoph
There are tons of hotels, in addition to a plethora of chalets and other lodging options ... And if what you find doesn't have a great sauna, St Anton has
The Alberg Center for Wellness
. Nice one. Here are some of my favourite hotels:
http://www.tschol.at
http://www.arlberg.com/hotel.ehrenreich/
http://www.arlberg.com/am.dorfplatz/
http://www.goldeneskreuz.at/en/
http://www.zwei-jahreszeiten.at
http://www.hotel-fahrner.com
St Christoph am Alberg
St Anton's lift-linked neighbor is smaller, higher and more refined. With a base at 1,800 m above sea level, it is one of the highest ski resorts in the Alps, which means it is always a winter wonderland. The tiny resort area is incredibly rustic, traditional and inviting. It has better access to Valluga Grat (St Anton's main peak) and is much more peaceful, too. If you really want to relax and still have access to all that St Anton has to offer, this is the place for you. Be warned, however: exclusivity comes at a definite price. Everything is expensive.
The Hotel Hospitz is legendary. I stayed there last year and had a fantastic time. It is a true grand resort hotel. That said, I prefer the smaller more personal Hotel Maiensee. I'm a bit bias: K and I got engaged there on a snowy balcony in 2001. The food is fab, the spa is incredible, and the Traxl Family really make you feel at home.
http://www.bergfex.com/stanton-stchristoph
http://www.maiensee.com
http://www.hospiz.com
Gargellen
This is my favourite small resort in the world. I'll be there for a week in February; my third trip in as many years. Located in the Montafone region of the Austrian Alps just the other side of Davos, Gargellen is a small resort, but it has some of the best powder I've ever found. There s a ton of perfect intermediate terrain and plenty of steeps and off-piste for more advanced skiers.
Gargellen itself is a postcard village, and the people are warm and inviting. The only downside is that it is a bit of a "make-your-own nightlife" kind of place, so don't expect packed bars and such at night. If you're looking to escape, Gargellen is the place to do it. If you can afford it, the 4* Hotel Madrisa is fantastic. The 4* self-catering Gästehaus Brücklmeier is a more budget-conscious option.
http://www.bergfex.com/gargellen
http://www.gargellen.at
http://www.madrisahotel.com
http://www.bruecklmeier.org
Silvretta Nova
Gargellen's big brother is located a short drive down the valley. It is the largest resort in the The Montafone Valley. Lift tickets are valid at all the resorts in the Montafone Valley, so if you're staying in Gargellen, you can spend a day at Nova, for example. In addition to the bars and clubs, there's also a 5K toboggan run that's open at night. Huge, fun and under 2 hours from Zürich and/or Friedrichshafen.

http://www.bergfex.com/nova/
Ischgl

Never been, but I know it is great. All the Austrians I know swear by it. Ischgl is huge and the high altitude guarantees snow. The resort has very good terrain and is party central. Always crowded, but very fun.
http://www.ischgl.com
http://www.bergfex.com/ischgl
Mayerhofen
Legendary. Not far from Innsbruck. "Penken" is one of the best peaks/ski areas of Austria. Great après-ski. Has it all, including massive crowds.
http://www.mayrhofner-bergbahnen.com
http://www.bergfex.com/mayrhofen
Obertauern
90km from Salzburg. Well-known major party spot. Always has snow. Pretty good skiing but not the most vertical you'll find.
http://www.obertauern.com
Bad Gastein
Mid-size. Awesome multi-mountain skiing and a wide variety of terrain. Best bet is to rent a car whist there, as the mountains are a bit spread out. Close to Salzburg. Natural thermal spas. Relaxing. Fun, especially for couples or for an escape.
http://www.bergfex.com/badgastein
Austria is without a doubt my favourite place to ski in the world. That said, I've been to some fantastic places in Switzerland. Here are a few I know along with micro-descriptions.
Engelberg
Big mountain. Tiny town. Great snow. No nightlife. 1h20 from Zürich.
http://www.bergfex.com/engelberg
Andermatt - Gemsstock
Steep skiing. Lots of snow. 1h30 from Zürich.
http://www.bergfex.com/gemsstock
Champery
The nicest part of the ginormous Portes du Soleil ski region. 1h30 from Geneva.
http://www.bergfex.com/champery
Verbier
Snowboard Mecca. Big mountain paradise. Always one to watch. Huge. Crowded. Popular. 1h45 from Geneva.
http://www.bergfex.com/verbier
Grimentz and Zinal
Like Gargellen in Austria, these resorts (and the neighboring St Luc and Chandolin in the Sierre Anniviers region of Valais) are hidden gems. Uncrowded. Tons of snow tucked away in a lovely valley. The only downside is that the valley is a cool 2 hours from Geneva.
http://www.bergfex.com/zinal
http://www.bergfex.com/grimentz
http://www.grimentz-stjean.ch
I haven't been to the French Alps in over 15 years, so I am not the right person to ask about it. That said, if you haven't been to
Chamonix
, you haven't lived.
Travel time is always critical for trips to the mountains, especially if you are flying. The last thing you want to do is spend a half day stuck in the car after a flight. So, most of the spots I've mentioned are under 1.5 hours from the airport. If you are considering Austria as a destination, don't forget about Friedrichshafen or even Zürich, as they're good alternatives to Innsbruck and Salzburg.
In addition to the official sites, here are my favourites:
http://www.bergfex.com
http://www.tiscover.com
http://www.ski-europe.com
http://www.snow-forecast.com
Steeply and deeply yours ...
~G~
Technorati Tags:
travel
,
guides
,
austria
,
switzerland
,
winter
,
skiing
,
powder