The Darjeeling Limited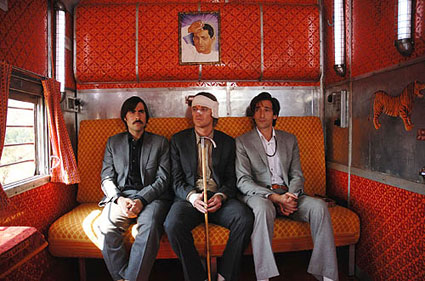 Finally had a chance to see Wes Anderson's latest,
The Darjeeling Limited
. It might not be his best pic, but it is certainly worth seeing. Like most of his films, he explores themes of family (fathers, in particular), belonging, love, destiny, drugs, dysfunction and discovery.
And as always,
the sountrack does not disappoint
.
The Kinks - This Time Tomorrow
The Rolling Stones - Play With Fire
Nathalie Portman makes a cameo appearance in the movie, and she makes a bit more than a cameo in "
Hotel Chevalier
", Anderson's 13-minute companion piece to the main feature. Shot in Paris with Schwartzman and Natalie Portman, it depicts the end of brother Jack's previous romance and serves as a droll prologue to "Darjeeling.". Via the
Post Gazette
.
It is very hard to find, but you can watch it
here
for the moment.
Technorati Tags:
movies
,
music
,
wes.anderson