Buzzword watch: Video Snacking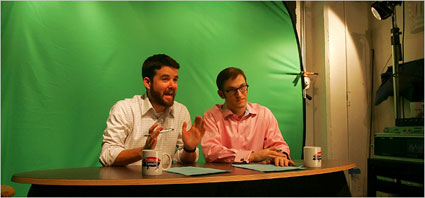 Ruby Washington/The New York Times

Noontime Web Video Revitalizes Lunch at Desk
Brian Stelter, New York Times
In cubicles across the country, lunchtime has become the new prime time, as workers click aside their spreadsheets to watch videos on YouTube, news highlights on CNN.com or other Web offerings
The trend — part of a broader phenomenon known as video snacking — is turning into a growth business for news and media companies, which are feeding the lunch crowd more fresh content.
"Go take a walk around your office" at lunchtime, said Alan Wurtzel, head of research for NBC. "Out of 20 people, I'm going to guarantee that 5 are going to be on some sort of site that is not work-related."
The midday spike in Web traffic is not a new phenomenon, but media companies have started responding in a meaningful way over the last year. They are creating new shows, timing the posts to coincide with hunger pangs. And they are rejiggering the way they sell advertising online, recognizing that noontime programs can command a premium.
Technorati Tags:
marketing
,
video
,
trends
,
buzz