Obituary: NYTimes Select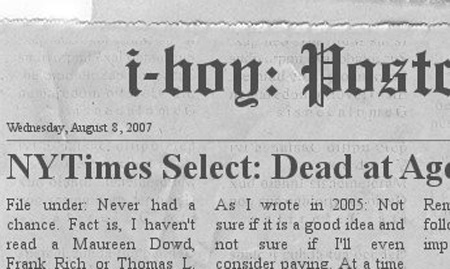 File under: Never had a chance.
Fact is, I haven't read a Maureen Dowd, Frank Rich or Thomas L. Friedman in ages. Have you? Ever since the NYTimes
put all their commentary behind a paid wall
two years ago, their voices have faded in the blogosphere. They had no resonance. No support. No natural advocacy and distribution.
As I wrote in 2005
:
Not sure if it is a good idea and not sure if I'll even consider paying. At a time when blogs are gaining such momentum, it strikes me as a bit odd that the Times would start charging for the op-ed columns.
See:
Oh yes, the (New York) Times, they are a chargin' ...
Two years, a couple hundred million blogs, and a gazillion free opinions later, the Times has decided that might not have been such a good idea after all.
Don't get me wrong, I think the Times is a great paper. Hell, I even worked there eons ago. That said, this was dinosaur thinking at its finest, and it is nice to see that it did not take too long (2 years is bad, but not
that
bad) to change course.
Ironically, the New York Post has
the full story
.
Technorati Tags:
nytimes
,
newspapers
,
dinosaurs