Chrome: The Google browser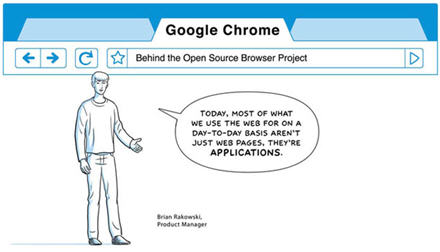 Google is launching an open-source browser, and they're using
a comic book
drawn by
Scott McCloud
to do it.
The news leaked in advance of the launch, and there is a ton of speculation out there as to why Google would develop a browser, given Microsoft's dominance and Firefox's rising popularity.
I think the opportunity boils down to one word,
mobile
, and the best analysis I've read so far is by
Om Malik
:
Microsoft is vulnerable on mobiles, where IE Mobile has a non-existent market share. Like Mozilla, Microsoft is playing catch-up with Webkit, the core rendering engine for Nokia S60 phones, Apple's iPhone Safari and Google Android devices. Even a Windows Mobile version is in the works. (Read my Webkit report.) By developing a browser that offers a seamless experience on both mobile and desktop devices, Google can carve out a nice chunk of the browser market for itself. The big opportunity could be especially the emerging class of mobile devices like the Netbooks.
Here are some more details about Chrome as well as a few links to further analysis.
It is based on Webkit and will include Google Gears.


It has a browser extensions framework that will allow it to make Adobe AIR-type hybrid apps.


It includes Javascript Virtual Machine called V8 that was developed by a team in Denmark. It accelerates the Javascript performance and is multi-threaded.


It has tabs, auto-completion, and a dashboard-type start page that can help you get going to the web services you need. Opera has such a dashboard.


It has a privacy mode that allows you to use the machine without logging anything on the local machine. It might be similar to a feature called Incognito in the latest version of Microsoft IE.


Malware and phishing protection would be built into the browser.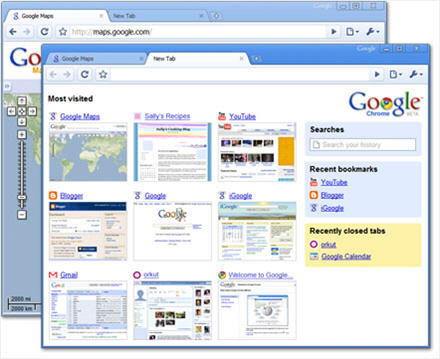 A fresh take on the browser
(official post)
At Google, we have a saying: "launch early and iterate." While this approach is usually limited to our engineers, it apparently applies to our mailroom as well! As you may have read in the blogosphere, we hit "send" a bit early on a comic book introducing our new open source browser, Google Chrome.

Google Ignites a New Browser War With Microsoft By Unveiling One of its Own This Week
Kara Swisher, AllThingsD
In its most frontal and aggressive attack on Microsoft yet, sources with knowledge of the project said Google is preparing to unveil a new browser–ready for download to users as early as tomorrow–to try to loosen Microsoft's iron grip on the most important piece of software to navigate the Internet.
Google Chrome, Google's Browser Project
Google Blogscoped
Today there was a comic book in my mail, sent by Google and drawn by no less than Scott McCloud, creator of the classic Understanding Comics. Within the 38 pages, which I've scanned and put up, in very readable format Google gives the technical details into a project of theirs: an open source browser called Google Chrome.
There's also a pair of good articles on TechCrunch:
Meet Chrome, Google's Windows Killer
Make no mistake. The cute comic book and the touchy-feely talk about user experience is little more than a coat of paint on top of a monumental hatred of Microsoft.
No Joke: Google Introduces The Chrome Browser With A Cartoon
Google Blogoscoped has published a lengthly cartoon sent to them by Google and drawn by Scott McCloud that provides the first public details about Google Chrome, an open source browser based on WebKit and powered by Google Gears that has been rumored but never before confirmed.
A ton of chatter can be found
here
.