PSFK, London 2007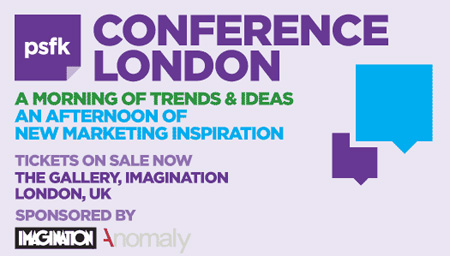 Both the event and post-event party should be good. Lemme know if you're going ... Confirmed speakers include:
Niku Banaie, Naked Communications
Mike Butcher, TBites
Russell Davies, Open Intelligence Agency
Regine Debatty, We Make Money Not Art
Jeremy Ettinghausen, Penguin Books
Karen Fraser, Ethical Index
Santiago Gowland, Unilever
John Grant, BrandTarot
Tamara Giltsoff, OZOlab brand
Jessica Greenwood, Contagious Magazine
Hugh MacLeod, GapingVoid
Beeker Northam, Bloom
Steven Overman, Lowe Worldwide
George Parker, Madscam
Simon Sinek, Sinek Partners
Stan Stalnaker, Hub
Iain Tait, Poke
Diana Verde Nieto, Clownfish
Amelia Torode, VCCP
Timo Veikkola, Nokia
Johnny Vulkan, Anomaly
Faris Yakob, Naked Communications
From Stan at
Hub
:
For those of you in London, Hub Culture will present PSFK After-Hours, a cocktail party on June 1st, 2007 to close PSFK's upcoming London conference. Hub Culture will be on a panel during the morning at the event, which includes a number of top cultural creatives driving change in business - from Anomaly to Naked to Open Intelligence Agency. Sign up - you will learn!

That night presents a perfect opportunity to get everyone in the London area together for a drink, so arrangements are underway now - save the date! Private details will be released via email prior to the event, so be sure you and anyone you wish to bring is registered at hubculture.com.

PSFK have a pretty cool

blog

, too.

Technorati Tags:

conferences

,

london

,

creativity

,

trends


Monday, May 21, 2007 &nbsp

&nbsp

&nbsp

&nbsp



&nbsp Comments: