Site of the day: Flickrvision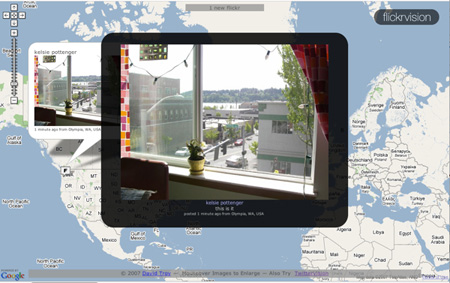 Brad Forrest has
a good review
of
Flickrvision
.
Just released today, Flickrvision shows realtime, geolocated Flickr photos. Just like Twittervision, it's hypnotic to watch. The map moves around to show the location of the most recent tweet or photo. Both visualizations hail from David Troy, a VOIP consultant who has suddenly found himself doing a lot of geo work.

If you're looking for a nice waste of time for a few minutes,
this will do ya just fine
. Brad also notes:
the developer of the site (and sister site Twittervision), David Troy will be giving an Ignite talk at this year's Where 2.0 on May 28th (open to the public). A Where20-specfic Twittervision will be on LCD screens in the lobby; follow Where20 to be able to post messages during the conference.


Technorati Tags:

photography

,

flickr

,

twitter


Tuesday, May 15, 2007 &nbsp

&nbsp

&nbsp

&nbsp



&nbsp Comments: