Sunday reading
London feels like this these days:
So, it was really nice to have a day to chill out, do some paperwork and other assorted bullshit, and enjoy some downtime.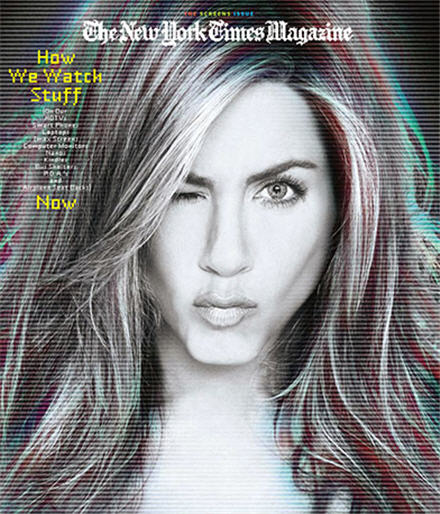 I started with a selection from the Sunday Magazine's cover story, "
How we watch stuff
."
Every fall the magazine publishes a special issue about Hollywood, a celebration and investigation of that unique experience called moviegoing: sitting in a dark theater for two hours with a few hundred strangers and being entertained by flickering lights and amplified sound. This year, we've stretched the issue to reflect a new reality: when you watch moving pictures these days, a theater is the last place you are likely to be. Cable, YouTube, DVDs, DVR, news briefs in the elevator and cartoons on your cellphone — through a variety of media, we now consume fragmented narratives on multiple screens. From a 16-second panda-sneeze video to 60 straight hours of "The Wire," this is the way we watch now.

Screen Goddess
NYTimes Magazine: Interview by Lynn Hirshberg: Jennifer Aniston could watch herself on a TV, a movie screen, an iPhone or a laptop. But mostly she tunes herself out — while everyone else tunes her in.
Multiscreen Madmen
NYTimes Magazine: Moderated by Jack Hitt: Three gurus from the next generation of advertising debate how best to sell soap in a post-TV world. Benjamin Palmer is the C.E.O. of the Barbarian Group, an Internet advertising and marketing firm based in Boston. He helped create the ''Subservient Chicken'' online campaign for Burger King. Lars Bastholm is a chief creative officer at AKQA, where he has worked on campaigns for Xbox, Coca-Cola and Motorola. Robert Rasmussen is the executive creative director of the Nike account at R/GA, an agency that specializes in digital media. He has created campaigns for ESPN, Sega and JetBlue.
On the Madmen article,
Stowe Boyd adds
: The words just jumped on the page this morning: The End Of Flow. "The end of flow?" I though, "But there is more and more flow. More people moving into a flow experience of the wold through new media." And then I read on, and saw that what the various participants were saying was exactly that: They are leaving the flow that advertisers want to lay down, and into their own.
Blodget has a few comments as well
.

The Screening of America
NYTimes Magazine: A.O. Scott: Will all the new digital devices kill cinema?
If You Liked This, You're Sure to Love That
NYTimes Magazine: Clive Thompson. Basement hackers and amateur mathematicians are competing to improve the program that Netflix uses to recommend DVDs — and to win $1 million in the process. Plus,
Search Engineers video
.
From there, I clicked on a nice MPU on the Times homepage and checked out AMD's "
The Future is Fusion
" campaign. Clever sponsorship of a section of the NYTimes archive and a very clean microsite. That's one of the first ads I've clicked on for other than research purposes in a long long time.
Went to
memorandum
to catch up on the political buzz du jour.
Hillary plays hardball
The Independent, by Leonard Doyle in Washington: The first sign of friction in the Obama camp as Mrs Clinton demands - and gets - a purge of her critics before accepting Secretary of State role.

A Letter to My Brother Newt Gingrich
Candace Gingrich on The Huffington Post ... LOL funny. Fcuk you Newt.
Then, I went over to
techmeme
for a main course of tech news and buzz ...
Live in Air: 10 Things You Need To Know About In Flight Wi-Fi
Engadget. Brian Lam reports live from Virgin America's Beta run of their Wi-Fi service over San Francisco. "There are a few things you should know about how its going to work when most airlines go live in 2009. And yes, I am posting this live from 15k feet over the Pacific Ocean."

Facebook's Project Palantir: Beautiful Visualization Of People Connecting
On Facebook, via
Mike Arrington on TechCrunch
YouTube Live
No, I did not watch it. But 700,000 people did, all at the same time.
TechCrunch reports that YouTube opted to partner with Akamai for the streaming
. There are a few interesting comments as to why they went with Akamai intead of other solutions like Mogulus, Ustream and Justin.tv. The Guardian tech blog has some good comments.
Citigroup Pays for a Rush to Risk
NYTimes: An in-depth look at just how bad Citigroup has fcuked it up.
A Lost Decade - But not for everyone
Some financial insight from Fred.
Read an interesting post on Dave Amano's blog about a bunch of
moms up in arms about a Motrin ad
. I'll probably write more about this in a separate post.
Stopped by
Iain's blog
. He's been at a conference.
Watched Bruce Lee playing ping-pong for the Nokia N96 via
Rubbishcorp
and others.
Apart from some time on Facebook and some music from
Hype Machine
, that's it so far. Now, I'm off to Homebase to get some firewood and pick up some dinner with K.