Nextgen social aggregation from Y! and the big G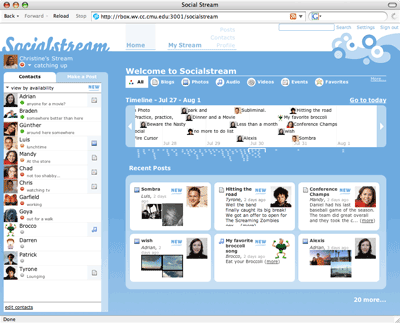 From
Google Operating System
comes news of Google's latest effort:
Socialstream
.
Socialstream is the result of a Google-sponsored capstone project in the Master's program at Carnegie Mellon University's Human-Computer Interaction Institute. This project was guided by three goals that built upon each other:

Initial Task: Rethink and reinvent online social networking

Refined Focus: Discover the user needs related to social networking and explore how a unified social network service can enhance their experience.

Prototype Goal: Create a system for users to seamlessly share, view, and respond to many types of social content across multiple networks.

Looks like an attempt at aggregation to me. A smart move, but I wish there was more of a wow! factor, if you know what I mean. Sure, tying together a lot of loose ends is a great thing (a could be a good business model), but I was hoping for something truly innovative and inspiring.
Socialstream would be based on a unified social network (USN), a single network that provides social data to other sites as a service. A service model allows many social networks to be linked together, letting them share both content and the nature of the relationships of the people who use them.

Yahoo's latest is still hush-hush and very much under wraps. Techmeme
reports
:
We don't know much yet, other than the project exists, it will be launched at mosh.yahoo.com and is being called a "new cool social network product" within Yahoo. No screen shots are available yet. See our earlier post for more.

A comment on Techcrunch suggests that Nokia defines 'mosh' as "mobilize and share" ...
http://mosh.nokia.com
... But from the name, I'd assume it to be an aggregator as well. Anyway, that's what portals do, right? I guess if you're Yahoo, the thinking must go something like this:
If
you can't beat 'em
, aggregate 'em.
Technorati Tags:
social.networks
,
google
,
yahoo
,
socialstream
,
mosh