IAB: Online ad revenue over $4B
Just. Plain. Massive.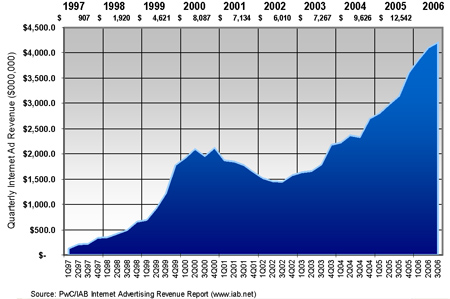 The Interactive Advertising Bureau (IAB) and PricewaterhouseCoopers LLP today announced that
Internet advertising revenues reached an estimated new record of $4.2 billion
for the third quarter of 2006. The 2006 third quarter revenues represent a 33 percent increase over $3.1 billion in Q3 2005 and a 2 percent increase over the Q2 2006 total of nearly $4.1 billion.
Jason Calacanis, who apparently now fancies himself an economic modeling genius,
has some fun drawing lines and making assumptions
:
The real story of Web 2.0 has little to do with the bells and whistles and everything to do with the stunning growth of online advertising. If you look there is a valley between the dotcom spending days (99/2000) and today, but the trend line would be fairly straight if you held a ruler over the 97 to 2006 points--which I do here with the black line.
Technorati Tags:
iab
,
advertising
,
stats