What should the ad industry take from TED?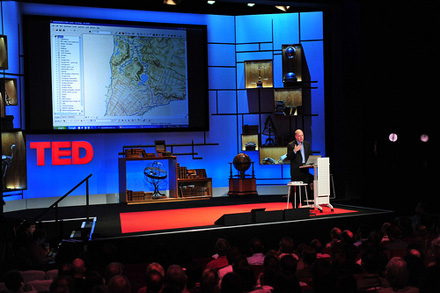 Hard to believe, but
TED Global
was four months ago. I'm a big fan of TED (even though I'm generally skeptical of pricey conferences), because it is such a unique and inspiring event.
Campaign Magazine was nice enough to ask me for my thoughts on what the ad industry can learn from TED
. Here's what I wrote:
TED is a window on the world that we don't see through often enough and offers a wake-up call for the brain. Here are seven things that the ad industry can take away from TEDGlobal, The Substance of Things Not Seen:

1. Creativity comes from everywhere
: The diversity of the TEDGlobal speakers is striking. Inventors, theorists, scientists, economists, musicians, and yes, even an adman. Ask yourself who could join your team who would help discover unique solutions.
2. The importance of seeing the forest for the trees
: One of my all-time favourite TEDsters is
Stefan Sagmeister
. (His
2004 "happiness" TED talk is legendary
.) He's a remarkable observer of life's rich pageant, and his talks are emblematic of both his creative prowess and his ability to see the big picture. Adland needs more big picture thinking. We need more Sagmeisters.
3. The value of an active following
: TED is more of a club than a conference. With different membership levels, members are passionate advocates whose involvement is encouraged. Check out TED curator Chris Anderson's Twitter feed @
TEDchris
to see what I mean.
4. Doing digital right
: From a
shit-hot website
, to subscription-based webcasts, to social media, TED understands that apart from being there, the best way to get people involved is through digital. There's a premium on user experience and design, along with an understanding that drip-fed unique content and functionality (what I like to call a "lots of little" strategy) is often better than trying to do everything at once.
5. Not everything that is of value can be seen
: Echoing his inaugural address as IPA President,
Rory Sutherland described intangible value as the most sustainable form of value you can create
. And of course, brands are intangible. They are ideas, and Rory emphasised that we're in the business of "creating ideas that turn human understanding into value".
6. The power of amazement and wonder
: Watching
Lydia Kavina play the Theremin
(a musical instrument that is played without touching it) showed that it is literally possible to make incredible things happen out of thin air. It was magical. We need to push for more briefs that ask for magic.
7. Do something
: At the heart of inspiration is action, and TED is about people who do things. (
Just look up Emmanuel Jal
.). Let's say less and do more: Stop telling people you have the best widget. Instead, create new ways for people to find out for themselves.
The full article is here on the Campaign web site, "
Close-Up: What can the ad industry learn from TED?
" and includes contributions from Richard Huntington director of strategy, Saatchi & Saatchi, Alex Franklin content and partnerships planner, Wieden & Kennedy, Andy Hobsbawm European chairman, Agency.com; co-founder of Green Thing (Dothegreenthing.com), Elspeth Lynn executive creative director, Profero, and the inimitable Rory Sutherland vice-chairman, Ogilvy Group UK.
Rory spoke at TED Global and gave an excellent and very entertaining talk called Life Lessons from an Ad Man:
When trying to think of a good description for the event, I think Thomas Dolby, TED's music director, may have put it best in his hit "
She Blinded Me With Science
": It's poetry in motion.
Follow iboy on Twitter
.