Shackleton has problems with fame
Little-known agency Shackleton won the Cannes Grand Prix in the Direct awards with an even lesser-known viral ad called "Lopetegui Deposit" created for Banco Gallego.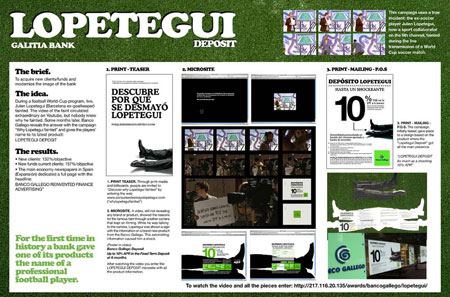 The great news is that an integrated campaign took home a Grand Prix for Direct in Cannes. The sad part is that, at least for me, the digital content simply does not rate.
Perhaps the (digital) work is great, but I can't find it.
In fact, other than this screenshot, I coudn't find a link to the supposedly 'viral' web site and rest of the work ... anywhere. Tried
Google
,
Yahoo
and
Ask
, amongst others. Plenty of links to the announcement of the award, but I can't find a link to the site anywhere.
Not exactly viral, now is it?
Search Google for the agency's name
and you get nothing
, either. There's a theme here, if you haven't noticed.
If you dig deep enough and finally find their site (which is
here
), it isn't working. Don't know what the problem is, but this is pretty bad form.
In lieu of seeing it for myself, Brand Republic (thankfully) provides some
background and additional
info on the campaign:
"We had three equally worthy winners of the Grand Prix," said Rory Sutherland, vice-chairman of Ogilvy Group UK and the Direct Lions jury president. In the end, Shackleton's won "on the degree of difficulty involved", despite not being the most beautifully crafted.

Banco Gallego's Grand Prix work took advantage of footage of Barcelona goalkeeper-turned-sports presenter Lopetegui fainting on Spanish TV which was spread virally and downloaded a reported 700,000 times. Shackleton reworked the film to show the reason for his collapse: he had seen a board displaying the bank's new interest rate. That film was then seeded virally to market a new product named after the ex-footballer and offering that interest rate.

MediaCanada
provides some additional info: The creative had the soccer star fainting because of the bank's new 10% financial product, the Lopetegui Deposit. The campaign included video of the faint, a continued spot, Internet, mail, radio, print and events, and garnered a ton of free press.
Technorati Tags:
advertising
,
awards
,
cannes
,
direct
,
shackleton