A Pixie Adventure
Yesterday, the whole agency went on a Monopoly-inspired treasure hunt across London. Glenn Doherty took along a blow-up doll of our creative director, Grant Hunter.
Here are several
more photos of Pixie's (mis)adventure
. While Grant was having his inflated adventure, I was having one of my own with some of London's finest ...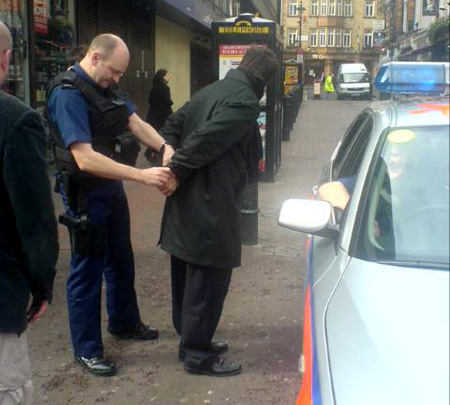 Don't worry, it was just a gag. When Marcus sent the pic around, however, more than a handful of people thought it was real.
The hunt was followed by a gathering at Jongleurs (a comedy club/disco) in East London. It was a lot of fun, and comedian
J
im Jeffries
' edgy style made a lot of people laugh and provoked some interesting reactions.
See for yourself
.
Have an excellent weekend.