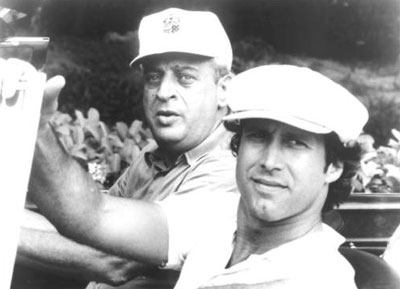 this just in: generalissimo francisco franco is still dead.
... and so is ad age's sense of humor.

what makes these funny ads even better is the sad attempt at political spin that ad age (a mag i respect and generally enjoy) is trying to put on them.

i mean, common ... chevy chase is making cola ads. they're funny. they're not for coke or pepsi. big freggin deal. making a grandios political statement about them and the relationship between the usa and turkey is taking things a bit too far, don't cha think? "Attempts to reach Mr. Chase or his agent for comment were unsuccessful." ... yeah, he was probably out playing golf.


CHEVY CHASE DOES TURKISH COLA ADS AIMED AT COKE AND PEPSI
Spots Air as Anti-American Feeling in Turkey Runs High
July 28, 2003
QwikFIND ID: AAO88J
By Bill Britt

LONDON (AdAge.com) -- U.S. actor Chevy Chase is starring in a TV advertising campaign for a new Turkish cola that competes with Coca-Cola and Pepsi-Cola at a time of heightened anti-American feeling in Turkey.

Hollywood actors often appear in foreign commercials, but the spot featuring Mr. Chase has the unusual twist of promoting a local cola brand, Cola Turka, over its American rivals at a politically charged moment.

Wednesday, July 30, 2003 &nbsp

&nbsp

&nbsp

&nbsp



&nbsp Comments: